●
This Year's President's charity
●
Norfolk Blood Bikes
Run by local volunteers, Norfolk Blood Bikes transport blood, plasma, platelets, samples, vaccines, donor breast milk and any other urgently required medical items to hospitals in Norfolk as well as to the East Anglian Air Ambulance. At no cost to the NHS, Norfolk Blood Bikes rely entirely on donations to keep them on the road.
To donate to our President's Charity please email the Hon Sec at [email protected]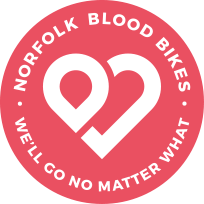 The Queen Elizabeth Scholarship Trust (QEST)
The Queen Elizabeth Scholarship Trust (QEST) funds the education of talented craftspeople through traditional college courses, apprenticeships or one-on-one training with masters. QEST was established to help support craftspeople of all ages and from all backgrounds, at a critical stage in their careers and thus sustain traditional British craftsmanship.
QEST was established in 1990 to celebrate the 150th anniversary of the Association and the 90th birthday of The Queen Mother.
In 2017 Sandringham Association sponsored an Apprentice Game Keeper, and a scholarship for a Cabinet Maker, both from the Sandringham Estate. 2020 has seen the Association sponsor Scholar Laura Winstone. Laura is a high school teacher who gained an MA in Children's Book Illustration. She has been shortlisted for the V and A Illustration award and received a "Highly Recommended. She has also been shortlisted, one of only two from the UK, for the Golden Pinwheel Young Illustrators Competition in Shanghai.
Royal Warrant Holders Charity Fund
The Royal Warrant Holders Association operates a Charity Fund – the Members' Charity – established in 1902 and rejuvenated in 2013. This exists to support the charitable endeavours of employees of Royal Warrant-holding companies. The Charity Fund makes grants, in the range of £500 to £2,000, to local charities with which employees of Royal Warrant holding companies are personally involved, and where the amounts given will make a real difference.
Several charities local to Sandringham have received donations and these include: Norfolk Blood Bikes, King's Lynn Motor Neurone Disease Association, East Anglian Children's Hospice, Baby Basics West Norfolk, The Hamlet Centre Norwich, Nelson's Journey, King's Lynn Food Bank, and Scotty's Little Soldiers to name just a few.
To donate to our Royal Warrant Holders Charity Fund please email the Hon Sec at [email protected]